Being involved within the local communities is a huge part of our companies! We (Michigan Paving and Materials) strive to be involved as much as we can, especially when it includes our employees. This past weekend we attended two events within the Grand Rapids area. Both events raised awareness for their cause, and we got on board to do the same thing.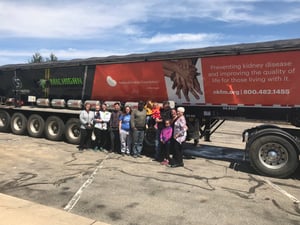 One way that we can support our local communities is with trailer wraps. These wraps are placed on truck trailers that are seen all over Southern Michigan. These are over 40 feet long and haul Asphalt and Aggregate to different plants and operations. "Trailer wraps are great ways to connect with our employees and the community to show our support" mentioned Rick Becker, President of MPM. Both of the events this past weekend had trailers that were wrapped with the organizations information on them.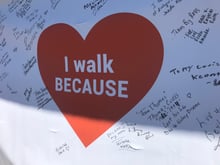 On Saturday, MPM, Stoneco of Michigan and Cadillac Asphalt employees joined the Purple Community Event to run/walk in a 5K at the Mary Free Bed YMCA. This event took place to help raise funds and 100% of what was raised went to research. Our employees, vendors, customers and families raised $6,300 and in total, the event raised over $50,000 this year.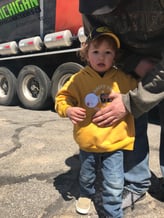 On Sunday, the Kidney Foundation hosted a walk at the Millennium Park, over 200 people joined to walk in memory of a loved one, walked on behalf of themselves with the kidney disease or on behalf of someone they know that is affected. This year was a special year for MPM, the freshly wrapped trailer made its grand appearance at the event and is driven by John Shamali with Lite Loads. John, his son, and grandson are all affected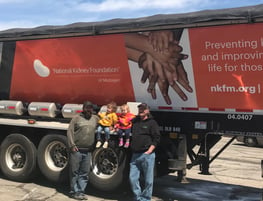 by Kidney Disease, and were all at the event to walk for the cause. It is stories like these that make what we do matter.
Thank you to all the people that supported and donated. We could not have raised what we did without you! Special thanks to the Byrne Family, Becker Family, DHT Group, Michigan Cat, Midwest Mine, ASI and over 20 employees that personally donated!