When your entire company is dedicated to being the best they can be, it's really gratifying to be recognized for achieving that goal. That's how MPM staff felt after the company was honored with five prestigious 2018 Quality in Construction Awards from the National Asphalt Paving Association during its 64th Annual Meeting in Marco Island, Florida, on January 23, 2019.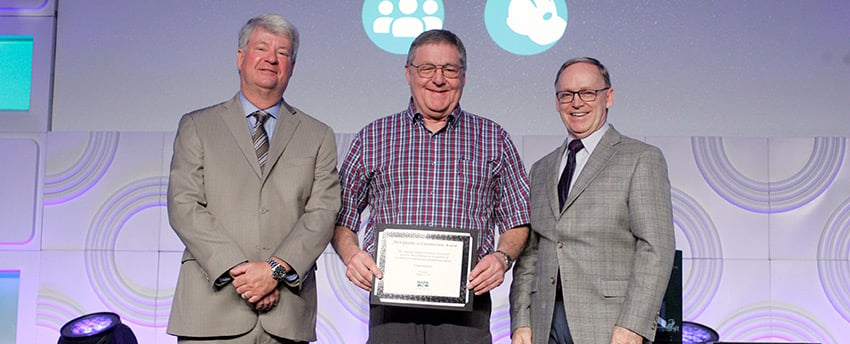 In presenting the awards, 2018 NAPA Chairman Craig Parker noted how important it is to recognize and applaud excellent workmanship in the asphalt paving industry.
"The asphalt pavement industry is committed to building high-quality projects that deliver superior performance to the traveling public. All contractors' projects earning a Quality in Construction award are measured against best practices designed to live up to that commitment," said Parker. "Earning the Quality in Construction Award demonstrates that Michigan Paving & Materials Co., A CRH Co., has met or exceeded these rigorous standards."
Jim Klett of Michigan Paving and Materials accepted the awards on behalf of the company, acknowledging MPM's commitment to providing the highest-quality asphalt products and paving services available.
Robert Checkley, General Manager of MPM was pleased to receive the recognition for the company and for the people who strive every day on every job to do the best possible work.
"Michigan Paving & Materials isn't just a company, it's a great team of people who truly want to provide our clients with top-notch asphalt paving services," he said. "I think these awards confirm our hard work is paying off for our clients, their communities, and for the people of the state of Michigan who drive on these outstanding roads."
The MPM projects honored are all in Michigan and include:
M-60 overlay in Union City — The 8.76-mile project consisted of joint repair, wedging, and a two-course overlay of the mainline. The mainline, shoulder leveling, and two courses were paved in echelon to maximize joint density. The existing five-foot shoulders were widened by three feet and overlaid with two courses.
U.S. 12 in Hillsdale County — MPM milled and overlaid the mainline road and the shoulders. The approaches were paved first, and then cut across during milling, creating a clean, straight joint at every approach.
M-40 in Allegan County — The 1.5-miles of roadway was reconstructed in part, widened, then milled before placing an overlay. The project was performed in multiple phases and on a tight schedule to accommodate the public schools located in the work zone. MPM incorporated the maximum amount of reclaimed asphalt pavement (RAP) in the project mixes, a sustainable practice that reduces the use of virgin aggregate. The road is now a smooth, high-quality pavement.
Fremont Municipal Airport Runway 18-36 (19-1), Fremont — This mill-and-overlay project included runway and taxiway connectors and careful attention to elevation considerations. The existing pavement was milled 2.5 inches and then a two-course overlay was applied. The critical elevations in this project led to the use of robotic automation technology on both the milling and paving operations.
M-6 in Kent and Ottawa Counties — This full-depth perpetual pavement project used the crushed remains of the full-depth concrete removal as an aggregate base. This was followed by lifts of varying asphalt mix types using an echelon paver up to four lanes wide at some points. More than 86,000 tons of asphalt were used to complete the project, which began on July 8, 2017 and was completed in November.
Congratulations to all MPM crews and staff for their dedication to excellence!