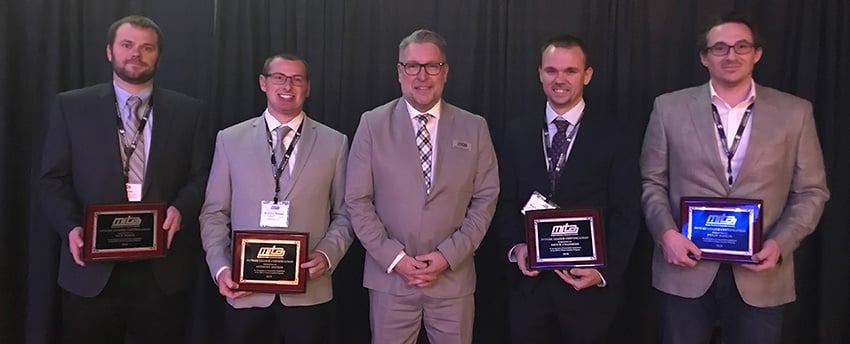 Nick Byrne, Anthony Becker, Rob Coppersmith, MITA vice president of Membership Services Brock Chambers, and Philip Hamlin.
The present looks bright and the future even brighter for four staff members who recently completed Future Leader Development Program training at the Michigan Infrastructure & Transportation Association. The participants included, Nick Byrne and Anthony Becker with Michigan Paving & Materials, Brock Chambers with Stoneco, and Philip Hamlin with Cadillac Asphalt. They completed the almost year-long program in January.
The MITA Future Leader Development Program is composed of a series of six sessions that delve into topics like legislative processes, labor law and human resources, industry rules and regulation, insurance and healthcare, and leadership. All the issues facing heavy construction industry leaders today must be understood by tomorrow's leaders to ensure seamless transitions and a healthy industry. The MITA program is designed to "educate the participants on a wide variety of topics that will help them grow their knowledge base and develop the skill sets needed to be effective company leaders and industry advocates."
Ideal candidates accepted into the program are those who have exhibited leadership traits and may already be on a management track within their companies. The limited number of accepted candidates also had to provide their resumes and letters of recommendation from company leaders. Candidates were selected by MITA staff and subject to review by the MITA board of directors.
In addition to completing the mandatory sessions, participants also commit to attend and participate on on MITA Committees, and at industry events including the MITA Annual Conference, board of directors meetings, and the Washington, D.C. Fly-In.